British GT faced an anxious wait to see whether its championship decider could go ahead this weekend. Now that it has been given the green light, a familiar predicament rears its head, says JAMES NEWBOLD. Is it better to be the hunter, or hunted?
"We need to just take points when we can and if we have an opportunity to take more, then we should. With everything that's going on with COVID, you never know when all of a sudden there's going to be a lockdown, the championship's not going to finish and it gets called as it is."
When RAM Racing boss Dan Shufflebottom spoke those words after the last British GT round at Snetterton, he could not have known how close that hypothetical scenario was to becoming a reality. With the rate of new coronavirus cases showing no sign of slowing down and prompting the UK government to declare another national lockdown, commencing today, there was a very real fear that the British GT Championship's final round at Silverstone this weekend would fall by the wayside.
With the GT3 and GT4 titles finely poised and series organiser SRO working hard to build a season-high grid of 38 cars, it would have been a huge anticlimax to a superb contest if the three-hour season finale had not been given dispensation to proceed by the UK government's Department of Digital, Culture, Media & Sport.
Fortunately, the outcome of talks with Motorsport UK was positive and we will get to see the season play out in full this weekend, with Sam De Haan and Patrick Kujala's RAM Mercedes defending a six-point lead over closest challengers and fellow Silver Cup entrants Sandy Mitchell and Rob Collard (Barwell Lamborghini).
There is a third car realistically in the mix - the second Barwell Lambo of Pro-Am pairing Phil Keen and Adam Balon is just 11.5 points off the lead, with 37.5 up for grabs, after its second win of the season last time out at Snetterton (ending the run of seven different winners from as many races) - but with the caveat that they have a hefty 20-second penalty to serve at their final pitstop.
Finishing third in Norfolk - after a mistake from team-mate Ian Loggie promoted them a place - means De Haan and Kujala will also have a 10s penalty, but the silver lining resulting from the seatbelt-induced delay that dropped Mitchell and Collard from second to fifth at Snetterton is that they won't have to serve any extra time in the pits this weekend.
So, what would you rather have: fewer points or a penalty? Barwell boss Mark Lemmer is firmly in the former camp, and has full faith in his charges - who formed part of the team's Spa 24 Hour Pro-Am-winning line-up last month - to do the job on-track.
"Points on the board is a significant factor, but I would rather be in our position than theirs going into the finale" Mark Lemmer
Still only 20, Mitchell has come a long way since his debut British GT campaign in 2016 and regularly shown comparable pace to Pro-Am entrants running with less weight, while 52-year-old Collard has adapted well to GT racing after almost two decades in tin-tops.
"I don't think finishing third is the ideal scenario in race two going into a three-hour finale," he says. "Obviously points on the board is a significant factor, but I would rather be in our position than theirs going into the finale."
Lemmer says Keen and Balon will go into the title decider with a "pragmatic" approach, knowing that the 20s penalty presents them with an "uphill battle".
"It just depends on safety cars," he says. "A safety car at the wrong time and that 20s penalty could mean game over. That's the reality. But at the right time, turn it into an opportunity and they could be right in it."
Still, Shufflebottom is happy with his team's lot heading to a track where Loggie and Callum Macleod won for RAM last year, especially knowing that unless they win Mitchell and Collard will need to have a car in between them and De Haan/Kujala to overcome their deficit.
"We know there's obviously a lot of points on offer at Silverstone," continued Shufflebottom, "and we did talk about the fact that actually leaving [Snetterton] with third and fourth place finishes would actually be the ideal result. It's not something we planned, it's just how it ended up and it hasn't worked out too badly."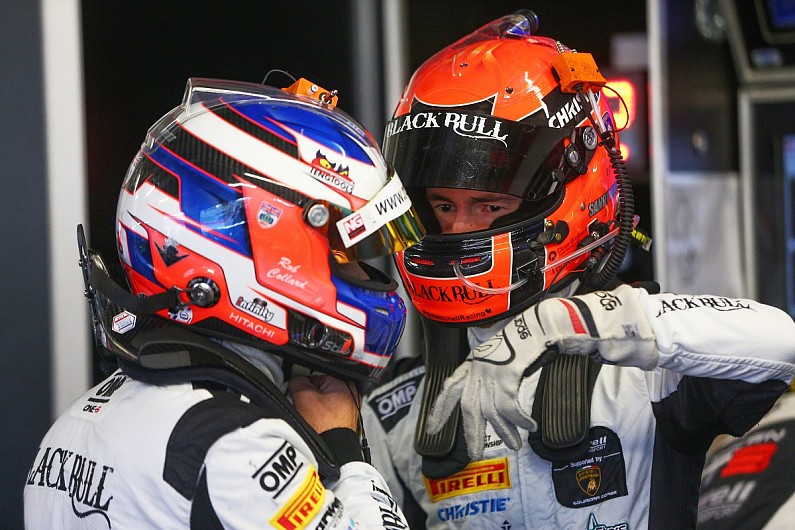 Both De Haan, the 2019 runner-up with Barwell, and Spanish-born Finn Kujala - a regular in Barwell's GT World Challenge Europe roster since 2017, currently leading the silver class standings with only one round to go - have thrived this year in their first season in a Mercedes, a car that has to be driven with patience rather than hustled to the limit to work the aero like the Lambo.
"Sam really wants to beat his old team because he made the decision to switch, and they obviously would like to beat him for exactly the same reason," says Shufflebottom. "He's a young guy and he's not planning to do British GT forever, but it's a box he wants to tick before he moves on, so this is the final piece of this year's puzzle - for him to get this race done and win the championship."
Lemmer concedes: "I've spent the last two years trying to iron out all the weaknesses in their driving and that could quite possibly come and bite us on the arse. We taught those guys well and they're pretty well-equipped to deal with it. I'm not going to overthink that one, they actually don't have many weaknesses."
The scene is set for an unusual decider at Silverstone, away from the traditional season finale setting of Donington Park and, as a COVID-19 necessity, without fans in attendance.
But hopefully with the presence in the field of a certain Jenson Button, who is likely to bring plenty of new eyeballs to the series, it can still deliver a true classic.