'To finish first, you first must finish.' It's one of the most tired cliches in endurance racing, used more commonly these days to reference the fact that a driver can't win the day on the opening lap, rather than as a passing comment on the reliability of the cars themselves. It's almost taken for granted that in modern times, it will be the driver and not the car that is more likely to break first.
Yet in the case of the No. 81 TVR Tuscan T400R during the 2005 Le Mans Series, that old adage applied quite literally. Of the five races started by 1997 British Formula 3 champion Jonny Kane and British Touring Car Championship race-winner Warren Hughes that year, only once did their Team LNT-run TVR make the finish as reliability problems persisted.
The one time it did make it to the checkered flag in the season-opening Spa 1000km, it won.
Against stiff opposition from GT2 class rivals Porsche and Ferrari, the tiny manufacturer of hand-built supercars in Blackpool had come out on top, Lawrence Tomlinson's new team scoring the marque's first ever international race victory, with the sister TVR of Marc Hynes, Patrick Pearce and Jason Templeman bringing home second in class to complete a dream 1-2.
Yet it was to prove the ultimate false dawn, a curious one-off in a year that descended into farce when both LNT TVRs were disqualified for failing a noise test in a British GT round at Castle Combe.
Perhaps unsurprisingly, Hughes doesn't remember the TVR - especially its 4.0-litre V6 engine - with much fondness.
"It was a fragile shitbox in all honesty," he says. "To give it a little bit of saving grace, it was reasonably well-balanced. It didn't do anything particularly horrible, but then it didn't do anything particularly great either.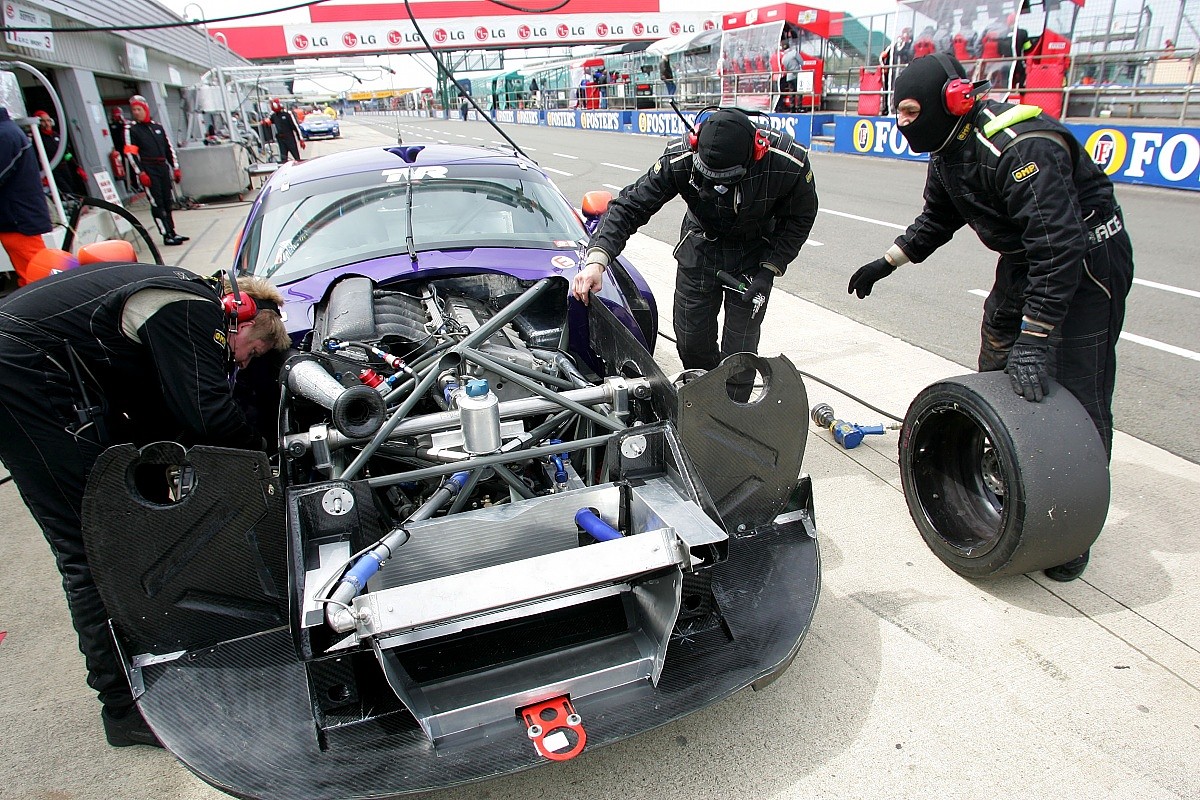 "It had virtually no aero. It wasn't a car you could really attack with because it was a big, heavy car with no driver aids, no ABS, no traction control, so it was fairly agricultural really.
"With a good driver pairing, in the longer races you could get a result with a clean run. But the fragility of the car meant those clean runs were few and far between."
Hughes and Kane, who had shared an MG Lola at Le Mans in 2001 and '02, had first tried the TVR in 2004, when it was owned by Bob Berridge's Chamberlain-Synergy team. The cars had been campaigned with some success in British GT since 2001, Boyzone singer Shane Lynch and Piers Johnson coming close to the 2003 title in an Eclipse Motorsport example until a collision with a spinning Marcos Mantis at Brands Hatch.
"We did six engines at Monza that year, that gives you a flavour of the year! The one time it actually did hold together was at Spa" Warren Hughes
Future Ginetta boss Tomlinson had scored two podiums with the car in 2004, but it's international fortunes had been somewhat less notable, with the Chamberlain car's eighth in class at Le Mans in 2004 its best showing.
"Bob brought us in to try and showcase the car with a view to trying to sell it," recalls Hughes. "I think he must have been talking to Lawrence at the time about maybe buying the car."
Sure enough, he did, but that wasn't because their two Le Mans Series outings had been a roaring success. After retiring at Silverstone, when an exhaust problem left the cockpit filled with smoke, the car was destroyed at Spa (below) when Hughes was T-boned by Pierre Kaffer's out-of-control Veloqx Audi R8 turning into the Bus Stop chicane.
"Warren virtually bit his tongue off!" Kane remembers. "So he was talking even more strangely than normal after that!"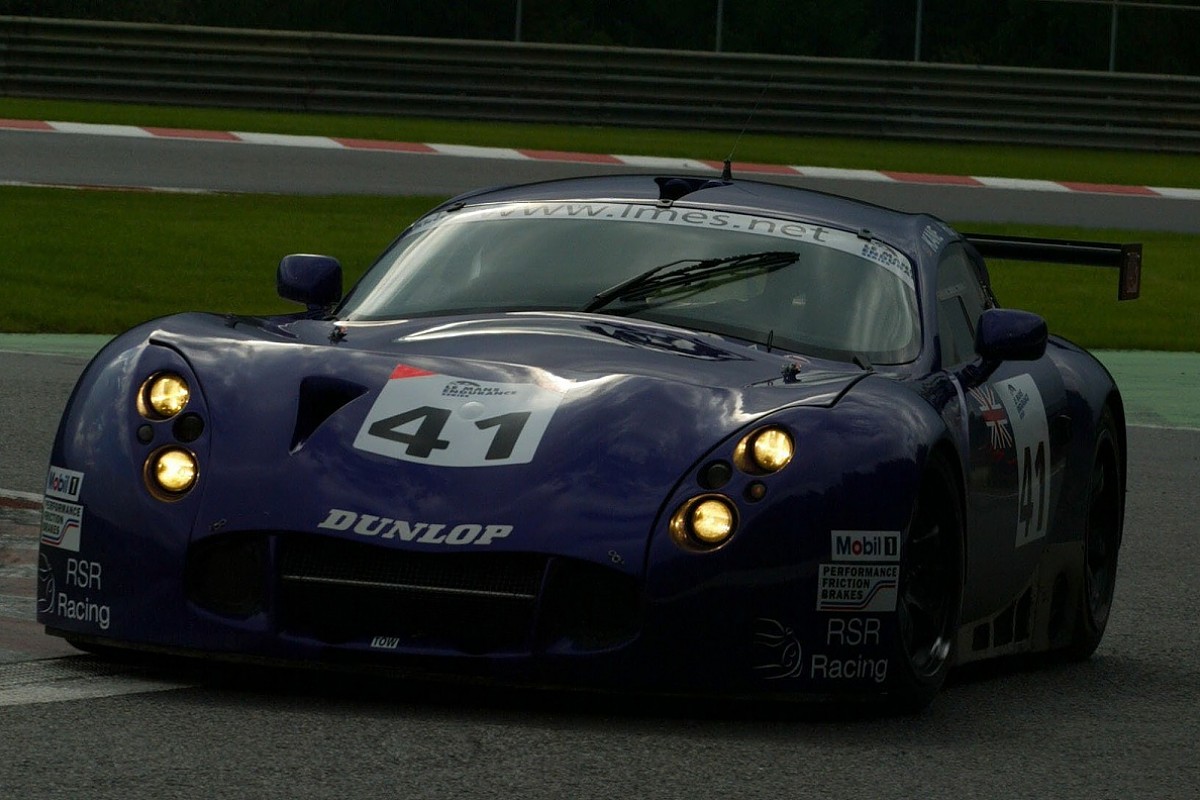 Both drivers were signed to race with Tomlinson's new LNT outfit in 2005, but the year got off to an inauspicious start with engine problems at Sebring, so hopes weren't high for the start of the new Le Mans Series season.
Despite the best efforts of LNT engineer Alan Mugglestone, efforts to improve the car were largely stymied by constant problems.
"He would try and solve something and it would have a knock-on effect on something else," says Hughes. "We did six engines at Monza (pictured below) in that year. They were basically running out of engines, so they were trying to put together the sixth engine out of the bits that were left from the previous five.
"It lasted about 10 laps in the race before we had an oil pressure loss. That gives you a flavour of the year! The one time it actually did hold together was at Spa."
For his part, Kane remembers the car a little more fondly.
"The car handled well, it was a little bit down on power and obviously we had lots of reliability issues, but actually it was a nice car to drive," he says. "In the outright dry we were probably a little bit off the pace, but if it was damp or wet or whatever then we had a little bit more of a chance."
The 2005 Le Mans Series opener certainly fitted the bill. Spa's renowned microclimate evened up the playing field, while repeated safety cars allowed the TVR to have a breather from time to time.
"I remember it being very much a wet, semi-wet race virtually the whole time with some dry bits. It was probably a saving grace because it meant the car wasn't absolutely stressed to the max the whole time," says Hughes.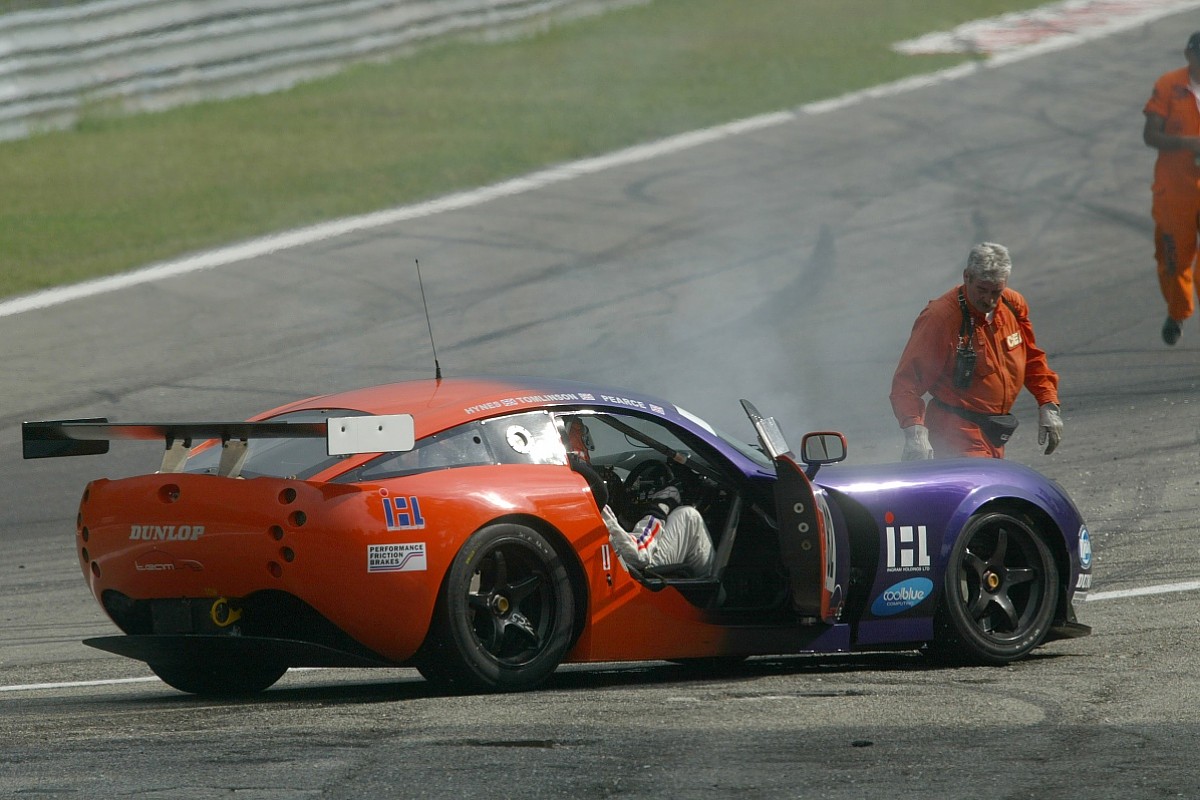 "It was a pretty miserable day really from what I can remember, you could barely see from one marshal post to the next," adds Kane. "We were almost at the point of not running the event because the mist and fog was so bad, but we were able to just about get the race going."
That's not to say the car was easy to drive in the wet, however.
"The visibility of that car was really bad when it was properly wet because the screen kept misting up," says Hughes. "At Silverstone later that year, we had a little stick in the car with a sponge on the end of it to wipe the windscreen from the inside.
"To never finish another race for the rest of the season, we probably didn't expect it to be quite such a downturn!" Jonny Kane
"I remember passing people around the outside at Bridge driving with one hand while clearing the screen with my other hand. It sounds like a story back from the 60s, but that's how it was!"
After completing his opening double stint on wets, Hughes switched over to Kane, advising him that it was sufficiently dry to take slicks.
"I was a bit dubious about that but as the person getting out of the car you may be a bit braver than the one getting in!" recalls Kane. "But Warren has a lot of experience, he was the one out there and he made the right call."
Soon Kane was chasing down Nathan Kinch in the Ecurie Ecosse Ferrari 360 GTC that had been started by Andrew Kirkaldy. But soon after passing him, Kane dropped behind again with a mistake and had to re-pass, his cause helped when Kinch went off at Stavelot.
Hughes recalls Mugglestone's astute strategy calls being a crucial factor in the victory.
"There were periods of that race where we were blisteringly quick in the half-and-half conditions on slicks - the key was just keeping the tyres switched on," he says.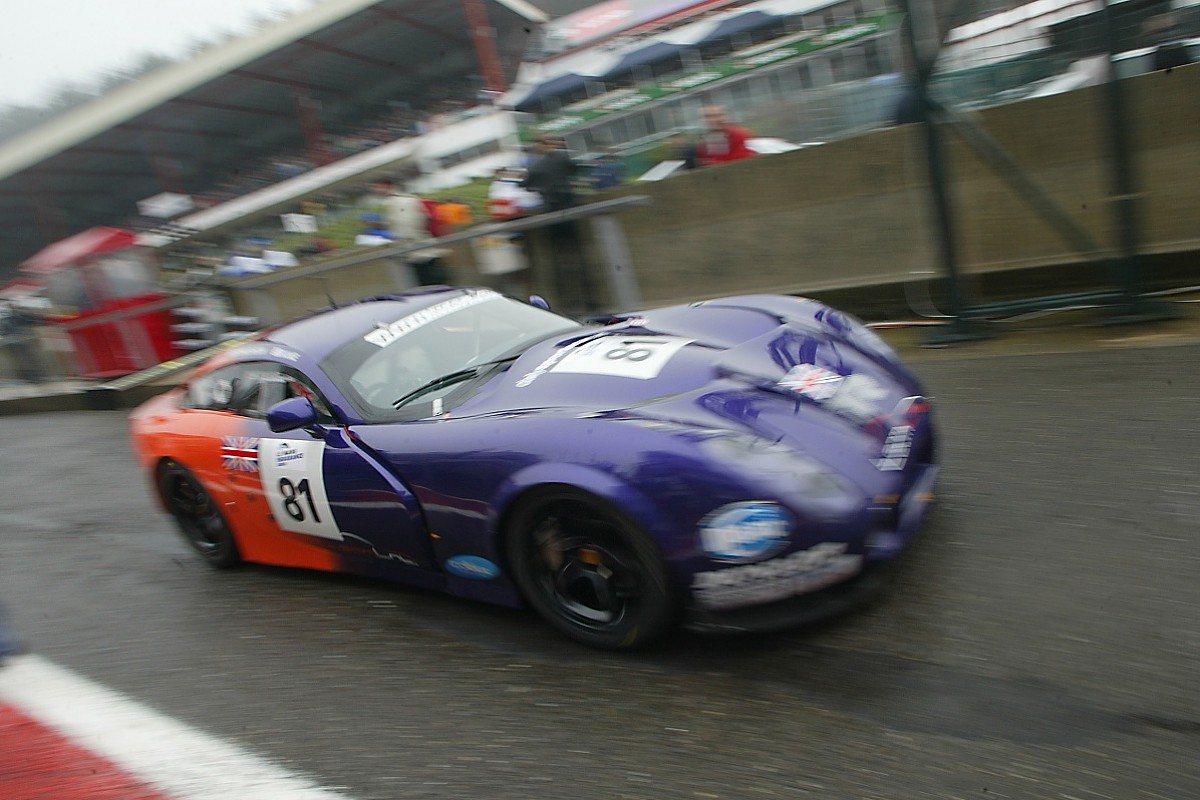 "Alan would stretch our stints out longer than perhaps we would do normally because if you did a driver change, that new driver would then have to figure out what the grip levels were like on his outlap and try to get the temperature back into the tyres without knowing what grip levels you had.
"But also me and Jonny had to make sure that we could do our bit as well, we had to push hard but if you made a mistake and ran wide onto the damp stuff, again that was a big problem because you lost all your tyre temperature."
So intense was the concentration required that Mugglestone advised Tomlinson that Hughes and Kane should complete the race distance between them.
"As Alan was reading the race, he realised that any interruption to that rhythm was just going to kill the race, so he didn't even put Lawrence in the car for one lap," says Hughes.
"Lawrence still came up on the podium and was part of the celebrations, he took one for the team."
Behind Hughes and Kane, the sister car completed a dream result with both cars finishing in the outright top 10. But, of course, it wasn't to last.
"I remember someone asked Marc a question in the press conference and he said, 'well, we've had a 1-2 today, it's going to be all downhill from here!'" recalls Kane.
"But to never finish another race for the rest of the season, we probably didn't expect it to be quite such a downturn!"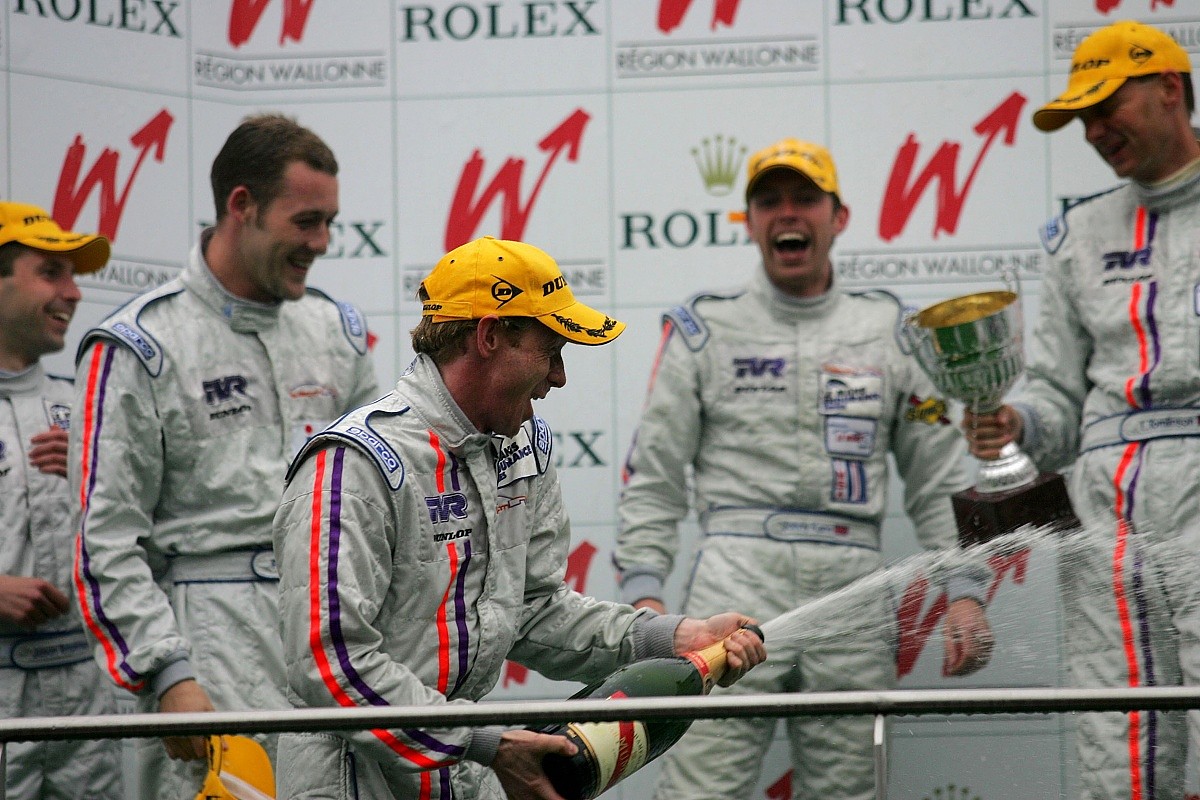 Hughes remembers Hynes' remark too.
"Never a truer word was spoken!" he laughs. "That was just absolutely not representative of what was going to come after that just in terms of the car holding together, it was just the circumstances of that race let us perform.
"At races later on in the season we were having engine problems within 60 minutes, so it's just one of those days where everything went right" Jonny Kane
"I don't think realistically there was ever really the infrastructure from TVR to be able to run a customer programme as the proper manufacturers do. There was only probably Porsche and Ferrari back then who were doing that sort of thing and who had the resources to do that well.
"The significance of it was probably lost on us a little bit at the time."
"It was a bit of a shock to all of us really," Kane agrees. "Conditions probably played into our hands, if it had been a bone-dry race, I'm not sure we could have achieved what we did, but maybe the cooler conditions helped everything last a bit longer.
"Having said that, at races later on in the season we were having engine problems within 60 minutes, so it's just one of those days where everything went right.
"Lawrence Tomlinson was in his early days of getting into motorsport at that stage, so for his team to finish first and second at Spa was an absolutely mega achievement for him."