McLaren team principal Zak Brown believes a championship of 14 or 15 races at 10 venues is more realistic than Formula 1's plans for up to 18 events this season.
The 2020 season is delayed until July at the earliest as a result of the coronavirus pandemic, with F1 hoping to begin the campaign on 5 July in Austria which it is aiming to stretch across 15-18 races through to December.
But Brown argues that F1 needs to do a better job of planning contingencies to avoid a possible repeat of what led to the cancellation of the Australian Grand Prix, when a member of McLaren was diagnosed with COVID-19.
Speaking exclusively to Autosport for the #thinkingforward series of interviews, Brown says starting the series in early July with two races in Austria and two at Silverstone, in controlled environments, will help to build confidence and momentum to carry on with a meaningful calendar of races through to mid-December.
"Eight [grands prix] is enough [to qualify as a World Championship] and I'm optimistic we'll get in more than eight," he said.
"Formula 1 is looking at a schedule of 16 to 18, kind of 15 circuits, 18 races. I'm a little bit more pessimistic than that, I would place my bet on 14-15 races at 10 circuits.
"I think we will do a couple races in Austria, a couple races at Silverstone. If we start running into issues with travelling, then I think you could see doubling up at some other races.
"I don't think that's the intention, but I'm going to assume that we're going to hit a glitch, somewhere along the way.
"Even though Austria is ready and maybe Silverstone is ready behind closed doors, we don't know if the second wave [of the virus] will come.
"If we want to go to Asia, or America; I think it's going to be when we get on planes and have to fly overseas where I think the risk will start to potentially get greater.
"There's a conversation about more races in Europe. The schedule was only ever 16 races for a long time. So, to me, 14-15 races, is going to be a very complete championship."
Brown believes that the isolated circumstances of the Red Bull Ring in Austria make it the ideal place to resume racing, as it has an air force base next to the circuit where charter planes can land and a controlled, low population environment nearby.
Austria has already relaxed many aspects of its lockdown with shops opening again in the country last week.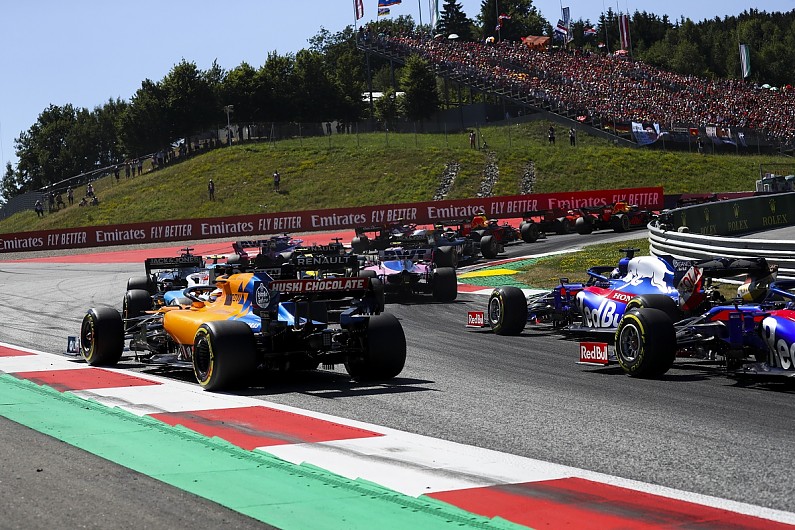 Commenting on F1 owners Liberty Media's handling of the current crisis post-Australia, Brawn said: "They continue to pay us. They've assisted some teams, I'm not exactly sure which teams, but I think that's good because all the teams might need eventually some help.
"I think they're doing everything they can to get us back to going racing, which protects us economically.
"I'm very impressed with Jean [Todt, FIA President]. They're making good decisions, good recommendations and Jean, in particular, is pushing very hard on the budget cap.
"It's needed, and it was needed before this. As long as we all handle it [the crisis] well and lean into the problem and not run from the problem, then I think there's opportunity.
"I think it's danger if we put our head in the sand, if we just kind of assume everything will sort itself out. That's dangerous."