The crashes which hospitalised Daniel Abt and ended Nyck de Vries's Mexico City E-Prix do not appear to be linked, despite both occurring when the drivers activated fanboost.
Audi driver Abt was taken by helicopter to hospital - for expediency rather than injury severity - after crashing in practice following his deployment of fanboost.
As he braked for Turn 9 his front wheels locked but the rear axle appeared to keep on turning, preventing the car from slowing. Abt registered a 20g impact.
Mercedes's de Vries suffered a similar incident on the run to Turn 1 in the race when he used fanboost to defend from Antonio Felix da Costa, causing him to take out the Envision Virgin Racing car of Robin Frijns.
However, Autosport understands that these were separate incidents that related to problems with the individual teams' software and not specified component parts.
Abt told Autosport: "I was activating fanboost and on a quick lap, the car is the 250kW [maximum power mode] and I arrived in the braking zone.
"I touched the brakes, I'm realising the car just keeps accelerating flat out.
"Normally we have a safety [measure] so if you are flat out and you brake the power cuts off this second.
"It's like the law which happens when you don't need it and then when I needed it didn't happen.
"The car just kept going and it was fast. it was a heavy a shunt."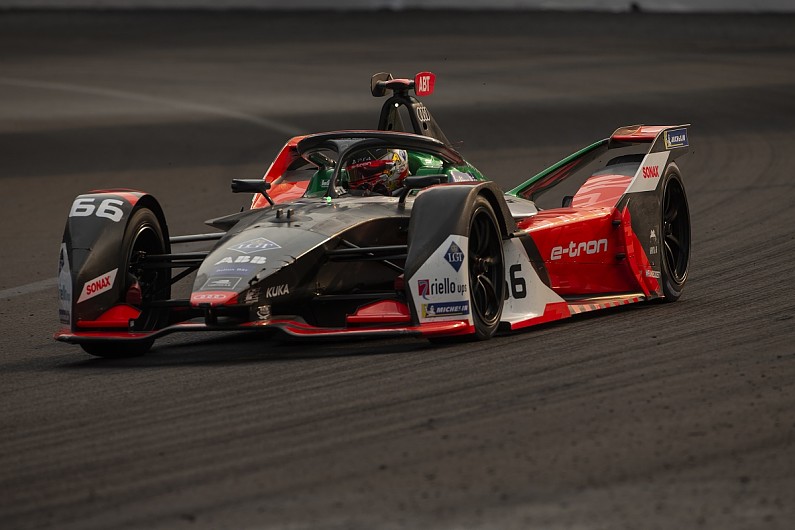 Autosport understands that the issue was not directly related to problems for either driver with the brake-by-wire system.
When asked if he thought his incident was similar to the nature of Abt's, de Vries told Autosport: "I don't really like to comment on the point because I don't want to blame anyone or take the blame if we are not sure at the moment.
"But it certainly felt like that.
"It was my feeling too. I share the same feeling as your observation."
Mercedes team boss Ian James added that the issue did not appear directly linked to the activation of fanboost either.
He told Autosport: "We don't think that it's [fanboost].
"We've had an initial look at the data, there's some stuff that we need to do some more analysis on just to make sure that we fully understand that.
"I wouldn't link it with Abt's issue."
DS Techeetah driver da Costa was also awarded the fanboost mode during the race.
His team principal Mark Preston said checks had been made to ensure it was safe for da Costa to use the boost.
"When Abt had his problem this morning, a few people did actually come in and told us what happened.
"Our guys were happy that they'd looked after that problem.
"We didn't have a problem but I don't know why it happened [for two drivers] at this particular race."